10:46:25pm, Tuesday, April 24, 2018
Saluda Young Farmer Spring Truck and Tractor Pull
Published March 29, 2012 12:18PM, by Jake MorganViewed: 4871 timesTweetFacebook
---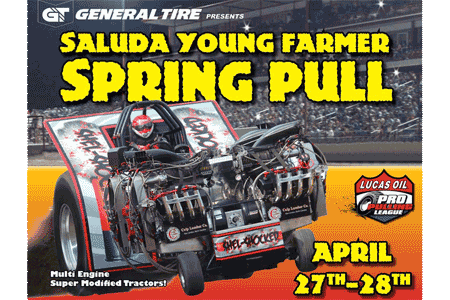 The Saluda Young Farmer Summer Pull is sanctioned by PPL (Pro Pulling League). Advance tickets will go on sale April 4, 2012 at Rodgers Fertilizer Company (409 N. Main St., Saluda SC) or Johnston Auto Parts (182 Lee St., Johnston SC). The Pull will start at 7:00pm both nights and the gates will open at 4:30pm. The event will have the following vehicle classes:
-Super Modified Tractor
-Super Modified 2WD Truck
-Pro Modified 4WD Truck
Vendors are welcome...for vendor information, contact Mike Rodgers at 864-980-8945, or Chris Proctor at 864-993-8751. Tickets and Time for the April 27 and 28, 2012 Spring Pull...
-Adult Weekend Pass $35.00
-Child Weekend Pass (age 7 to 13) $25.00
-Adult One Day Pass $20.00
-Child One Day Pass $15.00
-Coolers (no glass containers) $5.00
Trackside Parking
Trackside parking will go on sale April 9, 2012. To purchase trackside parking, contact Tony Perry at 864-980-4500. All trackside parking spots are $175.00 for the weekend. PLEASE DO NOT CALL PRIOR TO APRIL 9, 2012.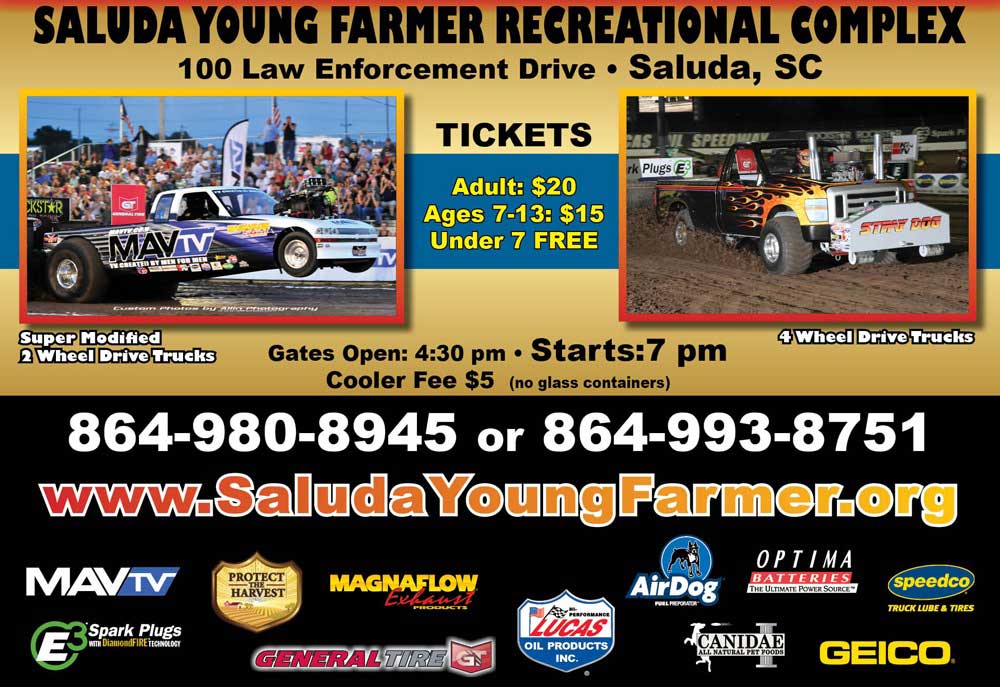 Rules:
1. Trailers must be in their assigned spots Thursday night prior to the pull before 9:00 PM.
2. No trailers over 30 feet bed length.
3. Landing gear must be on the ground. Tires must be chocked.
4. Trailers must be blocked at all four corners in a safe manner.
5. Trailers will be inspected by the Saluda Young Farmers and any trailer deemed unsafe will be removed from their spot.
6. If a trailer or flatbed truck is put in a spot, one vehicle per spot will be allowed to park behind the trailer during the pull each night.
7. If a vehicle is driven to the pull each night and parked in their spot, that will be the only vehicle allowed in for that spot. No second vehicle for that spot.
Edited 2 time(s). Last edit at 03/29/2012 12:39PM by Jake Morgan.
---
Comments
---

Advertisement
Post A Comment
Website Statistics
---
Global:
Topics: 32,465, Posts: 176,120, Members: 6,018.
This forum:
Topics: 88, Posts: 88.
Our newest member IH_706