03:56:19am, Wednesday, June 19, 2019
America's Largest Indoor Farm Machinery Show
Published February 13, 2017 01:01PM, by Jake MorganViewed: 1505 timesTweetFacebook
---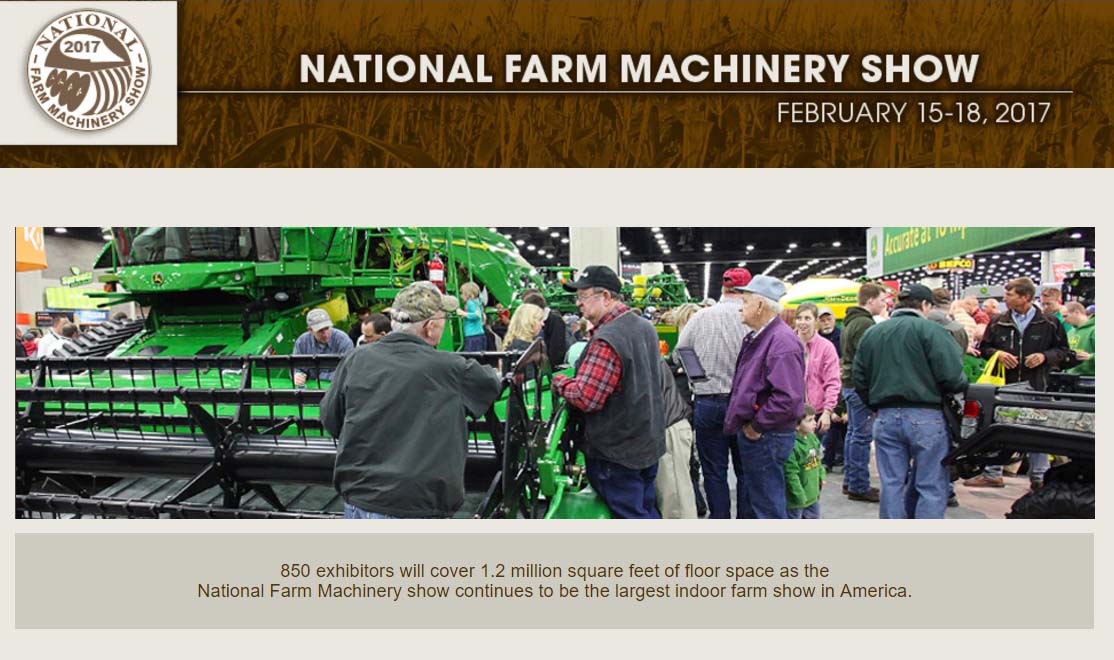 The National Farm Machinery Show, the largest indoor farm show in the country, is set to start this week. Each year more than 300,000 attendees from around the world explore the agricultural industry's most comprehensive display of equipment, services and technology – more than 1.2 million square feet of exhibit space to be exact.
With a nod to Kentucky's heritage as an agricultural state, it doesn't matter whether someone is "in the business" or just curious about what the future holds for the world of farming, there's something for everyone. From alternative energy and new product launches, to computers and seeds, to livestock handling equipment and sheds, there are 880 booths to discover.
Watch a live-taping of "U.S. Farm Report" market roundtable with Tyne Morgan and special guests Thursday, Feb. 16 at 2:30 p.m. Listen as expert analysts debate if 2017 will be the year the bull prevails in commodity markets. Presented by Farm Journal Media in South Wing B105.
Free seminars are scheduled Feb. 15-17 in the South Wing, with subjects ranging from market and weather strategies to world record corn and soybean yields; aerial imagery to fertilizer application; and new sprayer techniques to farm data. Sponsors include Farm Journal Media, Farm Industry News, DTN/The Progressive Farmer and the Monsanto Company.
Admission to the National Farm Machinery Show is free and open to the public Feb. 15-18 from 9 a.m.
to 6 p.m. Parking is $8 per vehicle. More information is available at
www.farmmachineryshow.org
.
Farmers Market: Gifts and Crafts
For those who are more interested in shops than crops, head over to the South Wing Mezzanine and the Gift and Craft Market, with its nearly 80 booths of jewelry, clothing, cowboy gear, tractor-branded merchandise, handcrafted gifts, toys, collectibles, sweet and savory snacks, and more. The market is open daily from 9 a.m. to 6 p.m.
---
Comments
---

Advertisement
Post A Comment
Website Statistics
---
Global:
Topics: 32,763, Posts: 186,642, Members: 6,538.
This forum:
Topics: 99, Posts: 99.
Our newest member pcoppala