05:39:55am, Saturday, January 29, 2022
2012 Cornhusker Classic
Published February 25, 2012 05:33AM, by Jake MorganViewed: 3267 times
---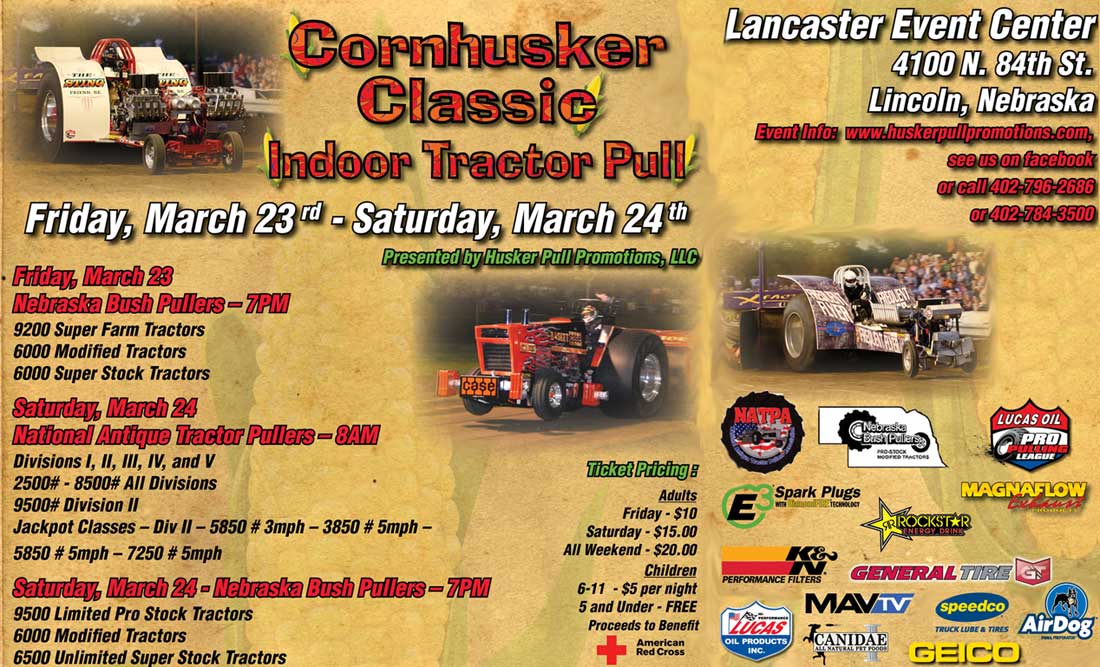 My Name is Ed Walker, I'm the Tech Director for the Nebraska Bush Pullers, and we have about 20 events a year all over Nebraska and will wonder down to Missouri and Iowa even some times.
We are proud to announce the first annual "Cornhusker Classic 2012". This event will be held on March 23rd and 24th at the Lancaster Event Center located at 4100 N 84th St, Lincoln, NE. We will be having 2 days of pulling entertainment for everyone.
It's a great place to have a pull. The Promoter, Dale Nelson, has had an antique pull in this building ever since it's been built about 10 years ago, and he now wants to go BIG!, have all kinds of room. It's 359 feet from wall to wall.
This is the first year for the event and it's already getting a lot of interest from pullers and fans.
We will start off on Friday night with the Nebraska Bush Pullers featuring Light Superstock Tractors, Modified Tractors, and Superfarm Tractors. Saturday morning at 8am we will start with the National Antique Tractor Pullers and at 7pm start the second half of the Nebraska Bush show. On Saturday night we will be featuring the Limited Prostock Tractors, Modified Tractors, and the Lightweight Unlimited Superstock Tractors.
With this event a portion of the proceeds will go to the American Red Cross. Please visit
huskerpullpromotions.com
often as it is still under construction and will be updated with new information as it is available.
Friday, March 23 – Nebraska Bush Pullers – 7PM
• 9200 Superfarm Tractors
• 6000 Modified Tractors
• 6000 Superstock Tractors
Saturday, March 24 – National Antique Tractor Pullers – 8AM
• Divisions I, II, III, IV, and V
• 2500# - 8500# All Divisions
• 9500# Division II
• Jackpot Classes – Div II – 5850 # 3mph – 3850 # 5mph – 5850 # 5mph – 7250 # 5mph
• $500 to Win Jackpot - 4750 # 5mph - 5250 # 5mph
Saturday, March 24 - Nebraska Bush Pullers – 7PM
• 9500 Limited Prostock Tractors
• 6000 Modified Tractors
• 6500 Unlimited Superstock Tractors
Husker Pull Promotions, LLC - 11402 West Fletcher Ave, Lincoln, NE 68524-8831 - (402) 440-4778 or (402) 784-3500 -
info@huskerpullpromotions.com
Edited 3 time(s). Last edit at 02/27/2012 03:20PM by Jake Morgan.
---
Comments
---
Post A Comment
Website Statistics
---
Global:
Topics: 37,725, Posts: 213,569, Members: 5,161.
This forum:
Topics: 106, Posts: 106.
Our newest member MacKenzie Thieding