04:48:45am, Saturday, January 29, 2022
2012 Keystone Indoor Truck & Tractor Pull
Published March 08, 2012 02:38PM, by Jake MorganViewed: 3260 times
---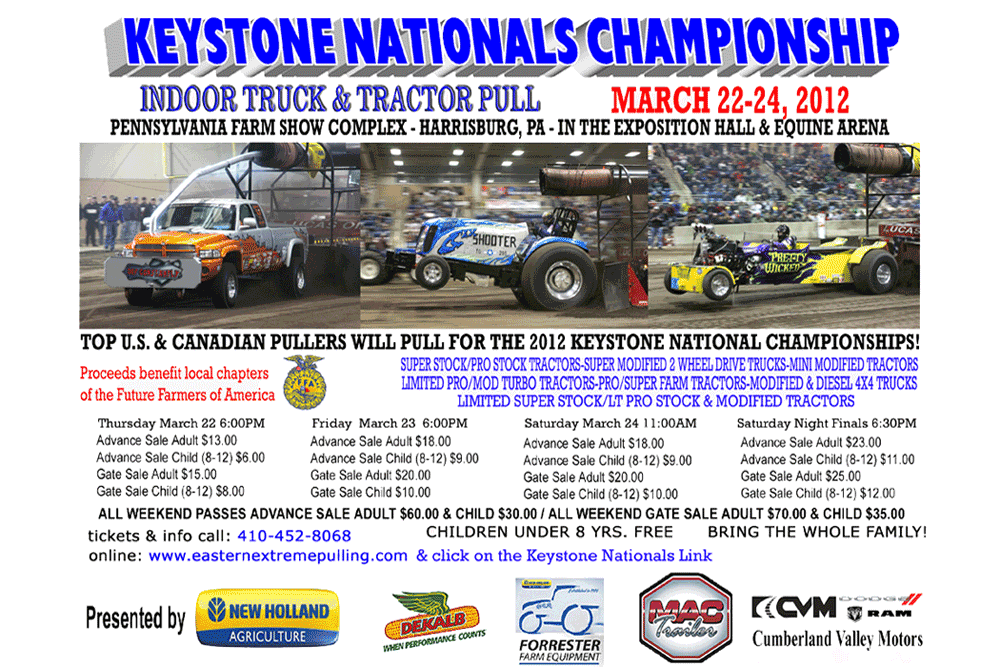 There are some events I just look forward to every year, some are old and well established, and some are relatively new. One new event that stands out every year is the Keystone Nationals. The event is now in its 5th year and it's one of the best run indoor events you can find. The facility is top notch for a truck and tractor pull, and the indoor pits are second to none in this motorsport.
This pull isn't just East Coast indoors, it features pullers from a wide area and has some excellent classes. If you get a chance to attend the show and walk the pits you'll meet some of the nicest people in this sport.
Pulling fans can get their usual fix of Red and Green but this show will have plenty of other variety and will most likely feature the largest selection of Ford/NH tractors of any indoor pull in the World. If you're a fan of blue tractors or just a fan of variety this pull is a must see event.
The event is just under two weeks away so there's still time to get tickets and make your travel arrangements.
For more information, a competitor list, and other general info go to:
easternextremepulling.com
or
Keystone Nationals Page
Edited 4 time(s). Last edit at 03/08/2012 03:22PM by Jake Morgan.
---
Comments
---
Post A Comment
Website Statistics
---
Global:
Topics: 37,725, Posts: 213,569, Members: 5,161.
This forum:
Topics: 106, Posts: 106.
Our newest member MacKenzie Thieding