05:20:49am, Saturday, January 29, 2022
2013 Winternationals in Gifford, IL
Published December 26, 2012 05:24AM, by Jake MorganViewed: 2389 times
---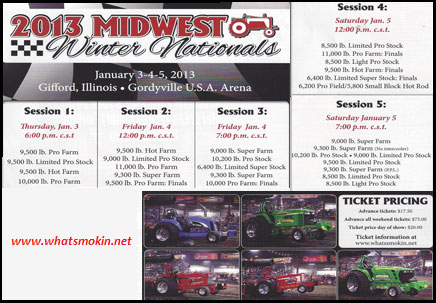 Kicking off the 2013 Indoor Season is the Midwest Winter Nationals at Gordyville USA in Gifford, IL.
Five great sessions of pulling kick off on Thursday evening January 3rd at 6pm Central. Classes include; Hot Farm, Pro Farm, Super Farm, Limited Pro Stock, Pro Stock, Light Pro Stock , Light Limited Super Stock and a Light Super Stock invitational. The event wraps up with an awesome session of top flight tractors on Saturday evening January 5th.
Go to
www.whatssmokin.net
for complete information on this event including the class competitors list.
---
Jake Morgan
Owner, PULLOFF.COM
Independent Pulling News
---
This page is a free service. The cost is covered out of my pocket. It takes a great deal of time and a fair amount of money to keep this website going. Donations for: photos, classified ads, forum discussion, etc... are appreciated.
---
Edited 1 time(s). Last edit at 12/26/2012 05:25AM by Jake Morgan.
---
Comments
---
Post A Comment
Website Statistics
---
Global:
Topics: 37,725, Posts: 213,569, Members: 5,161.
This forum:
Topics: 106, Posts: 106.
Our newest member MacKenzie Thieding