05:29:16am, Saturday, January 29, 2022
Championship Tractor Pull to Rev Up Attendees at 2013 Western Farm Show in Kansas City
Published February 20, 2013 03:18AM, by Jake MorganViewed: 2105 times
---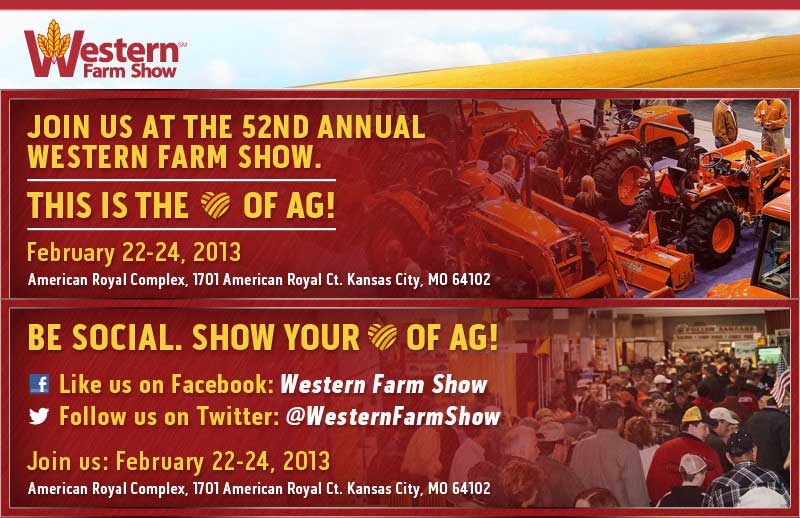 KANSAS CITY, Mo. – High-horsepower, high-volume competition returns to the 52nd Annual Western Farm Show in 2013 with one of the show's most popular attractions – the Championship Tractor Pull.
More than 150 drivers and machines from 15 states will compete for $64,600 in prize money during the three-day pulling competition, which gets under way at 6 p.m. Thursday through Saturday, Feb. 21-23, at the Kemper Arena in downtown Kansas City.
Featuring past and present champions, the tractor pull is staged by the Outlaw Truck and Tractor Pulling Association of Carthage, Mo., in partnership with the Western Farm Show. Each night will feature different shows with a total of 10 competing truck and tractor classes, including Light Super Stock Tractors, Super Farm Tractors, Modified Tractors, Pro Stock Trucks and Tractors, and the powerful Unlimited Super Stock Tractors.
"The farmers and ranchers who attend the Western Farm Show are big fans of tractor pulls, so our Championship Tractor Pull featuring top drivers and machines from throughout the U.S. is a perfect fit," said Ken Dean, show manager.
Fans can meet many of the drivers and see their machines on display from 10 a.m. to 2 p.m. Friday and Saturday, Feb. 22-23, at Kemper Arena. Access to this display is open only to attendees of the Western Farm Show, which will be held Friday through Sunday, Feb. 22-24, 2013, at the American Royal Complex a short walk from Kemper Arena. Tickets to the Western Farm Show and to the tractor pull are sold separately and can be purchased beginning in January.
The Western Farm Show ranks as one of the largest indoor displays of farm equipment in the Midwest, showcasing more than 500 exhibitors under one roof. Highlights also include the Health & Safety Roundup Area, the Family Living Center, the annual food drive "Border War" competition involving FFA Missouri and Kansas chapter members, and livestock demonstrations sponsored by MFA, Inc., a regional farm supply and marketing cooperative and long-time exhibitor at the show.
New Primary Show Sponsor MFA, Inc., is strengthening its partnership with the Western Farm Show by serving as a Primary Show Sponsor in 2013. It will continue to be the main sponsor of the livestock demonstrations, along with offering two seminars, one each on Friday and Saturday afternoon. "We're very excited about the expanded role of MFA, Inc., which will help make our 2013 show even bigger and better," said Dean.
Also on board as an official co-sponsor for 2013 is American Family Insurance, a first-time Western Farm Show exhibitor, which will share information about its product offerings for farmers and ranchers.
Western Farm Show hours are from 9 a.m. to 5 p.m. Friday, Feb. 22; from 9 a.m. to 5 p.m. on Saturday, Feb. 23; and from 9 a.m. to 4 p.m. on Sunday, Feb. 24. Adult admission is $8 and free for children 12 and under.
For more information, visit
www.WesternFarmShow.com
. Like us on Facebook at
www.facebook.com/WesternFarmShow
and follow us on Twitter at
www.twitter.com/westernfarmshow
.
2013 Show Schedule - 6:00 PM Each Night
THURSDAY, FEBRUARY 21ST
- 6200# Pro Stock Trucks ( P4x4)
- *Unlimited Super Stock Tractors (USS)
- 9200# Super Farm Tractors (SF)
* Note – Unlimited Super Stock weight - 6500#
FRIDAY, FEBRUARY 22ND
- * Light Super Stock Tractors (LSS)
- 6200# Modified 4wd Trucks (4WD)
- 9500# Limited Pro Stock Tractors (LPS)
* Note – Light Super Stock weight, Alcohol - 6100#, Diesel - 6400#
SATURDAY, FEBRUARY 23RD
- 6200# Modified 2wd Trucks (2WD)
- 8200# Diesel Super Stock Tractors (DSS)
- 7400# Modified Tractors (MOD)
- 10000# Pro Stock Tractors (PS)
---
Jake Morgan
Owner, PULLOFF.COM
Independent Pulling News
---
This page is a free service. The cost is covered out of my pocket. It takes a great deal of time and a fair amount of money to keep this website going. Donations for: photos, classified ads, forum discussion, etc... are appreciated.
---
---
Comments
---
Post A Comment
Website Statistics
---
Global:
Topics: 37,725, Posts: 213,569, Members: 5,161.
This forum:
Topics: 106, Posts: 106.
Our newest member MacKenzie Thieding