10:41:59am, Friday, December 01, 2023
2013 Gordyville Review
Published January 07, 2013 11:47AM, by Dick MorganViewed: 5188 times
---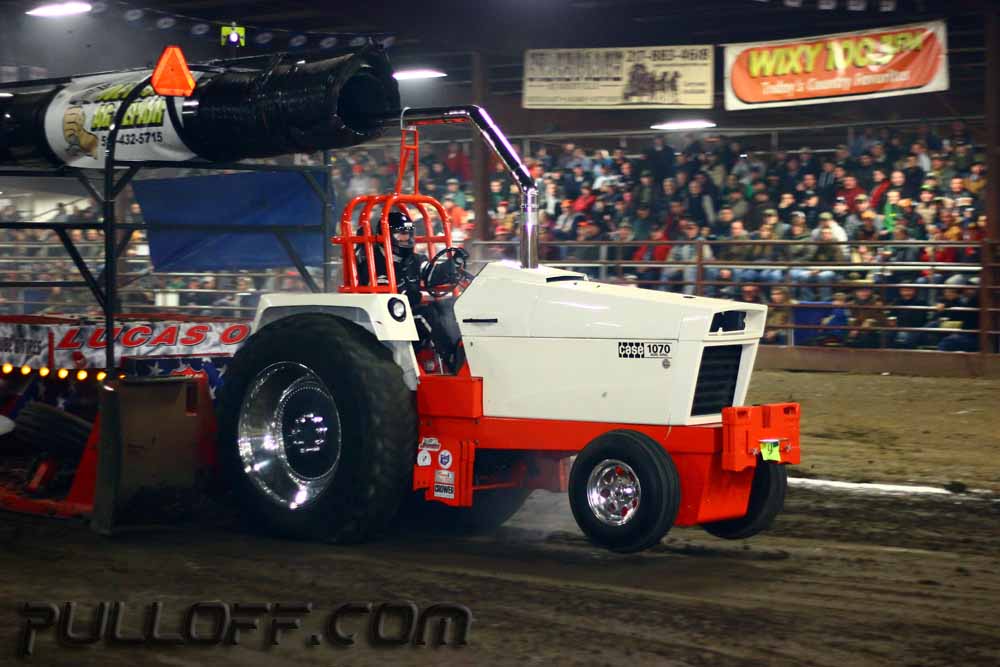 The 2013 edition of the "Whatssmokin Promotions" Gordyville event is in the books and the show was once again one of the best indoor events the "hooded tractor fan" can find.
Klint and Company have made indoor pulling available to classes that never get a chance to be showcased anywhere else. And once again the "Whatssmokin Promotions" crew put together a track that was a top notch power track, the proof being the three broken axles during the show, and the one during the Wednesday test and tune. With no criticism intended it just proves that Klint gets every HP of the pulling vehicles that hook to the Gordyville surface. And as always the track stays consistent hook after hook.
Once again the lineup of vehicles was outstanding. I think that any class that hooks in the Midwest with either the word "hot" "pro" "super" or any combination was invited. The Limited Pro and Light Pro, along with all three Super Farm classes, and the 6200 Pro/5800 small block classes where some of the tightest finishes in the show.
And "Whatssmokin Promotions" guiding principles at their events is constant improvement, from parking to seating Klint and Co. always work to make the show better year after year. This year the hauler parking area was enlarged and well managed and some of the seating were moved to increase the fans viewing.
One thing that is very apparent to me is the open and clear view of the track. The track crew never parks any of their vehicles in the way of the fans; the roller and the tractor that pulled the vehicles off the track along with the scraper tractors are never in the way of the fans viewing. I believe the pull back tractor was the best I've seen, and the roller crew and scraper tractors where fast and efficient.
And overall the sled setting where once again right on the mark, with few resets and most class winners winding up in the sand, or very close.
And like everyone that attended the 2013 edition of the "Whatssmokin Promotions" Gordyville event I am already looking forward to the 2014 show. So mark January 16-18 2014 on your calendar for "Whatssmokin Promotions" Gordyville show.
Link to whatssmokin site
---
Dick Morgan
www.PULLOFF.com
Independent Pulling News
Edited 3 time(s). Last edit at 01/16/2013 08:25AM by Jake Morgan.
---
Comments
---
Post A Comment
Website Statistics
---
Global:
Topics: 40,638, Posts: 230,180, Members: 3,376.
This forum:
Topics: 59, Posts: 59.
Our newest member NastyNorwegian