04:16:40pm, Tuesday, September 26, 2023
NFMS Freshening Part 4: Adding Some New Classes
Published March 08, 2012 01:42PM, by Jake MorganViewed: 5232 times
---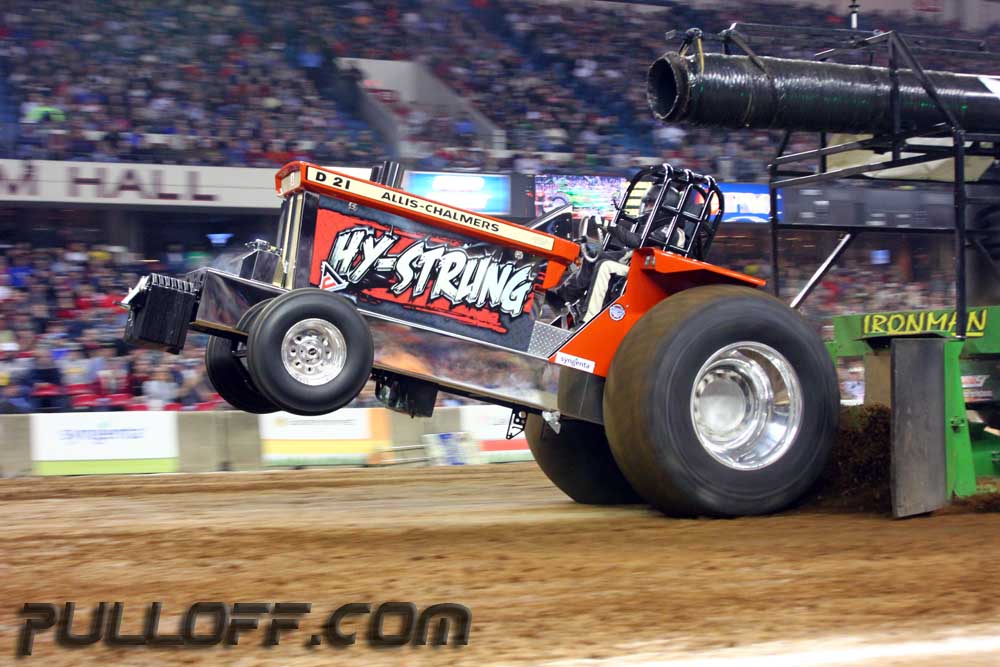 Is the Farm Show losing fans because its classes are too exclusive? Is there room for Regional, and even State level classes at the Farm Show? Can the big budget classes share the same stage as the mid-level budget classes?
One of the biggest questions when discussing the class lineup at the farm show is: should a class have a national circuit to be eligible for an invite? There are people who are staunchly entrenched in the position that this pull should be ONLY the top national classes. They would argue that this pull is the big time, the major leagues. To many this pull is the Super Bowl of pulling and only the select classes belong.
Personally, I can see that argument and I completely understand the logic. This event is prestigious, elite, and I love the classes that the pull currently offers. This pull offers most of the top tier classes, and it should. However, while I feel that this pull is something special, I also think this sport is special and this event should be treated slightly special.
There's much more to truck and tractor pulling than just National circuits. I love the National circuits, but I also love to see the grassroots grow. In fact, the "smaller" classes are actually gaining popularity. Grassroots pulling is stronger than ever and it's becoming more mainstream. The strength of grassroots pulling is especially evident in the resurgence of indoor events throughout the Midwest. While these events don't necessarily compete with Louisville for many classes, they have given fans an alternate choice for their indoor travel plans. These additional event choices are often forcing fans to decide between indoor pull A or Louisville, and ultimately some of those dollars are going elsewhere.
The inclusion of some of these up and coming classes at the Farm Show could potentially steal back fans from all the other winter indoor pulls.
I think the committee must feel similar because the inclusion of the Diesel Four Wheel Drive trucks last year showed that the Farm Show is willing to look outside the National ranks if the class is up-and-coming and offers more variety. The committee actually removed a class that has two national points circuits and replaced it with a regional class that doesn't have much continuity, and they don't have great numbers yet.
So while I still think this show should highlight the national classes, I also think there is room for a few classes that are on the rise. There are classes that are on the horizon as being the next big thing, and this show should be on the cutting edge of the sport.
Here's a look at a lineup that I'd love to see:
Wednesday

Thursday

Friday

Saturday
Afternoon

Finals

4wd

2wd

Light Limited Super

Light Pro

2wd (top 10)

SF or Light Pro or 4.1 Limited Pro
(depending on popularity)

4.1 Limited Pro

Super Farm

Diesel 4wd

SF or Light Pro or 4.1 Limited Pro (top 10)
(whoever has 2 sessions)

Modified

Light Mod

Open Super

2wd

Modified (top 5)

7 Super

7 Super

Pro Stock

Pro Stock

Pro Stock (top 10)

Light Limited Super (top 5)

7 Super (top 10)

48 hooks

48 hooks

48 hooks

48 hooks

50 hooks
* orange = alcohol classes
* black = diesel classes
A note about time:
the farm show has very tight time constraints. The Fair board has a goal to get the show done at a certain time every night and they strive for that in every session. That sense of urgency is a huge reason why this event is the cream of the crop. That time constraint means that there needs to be approximately 45-55 hooks a night depending on how smoothly the show is running. By shrinking class size it's possible to squeeze an additional class into each session and you'd still have roughly the same number of hooks.
Why more classes:
well, the goal of the show is to sell tickets. The easiest way to sell more tickets is to have more variety. Variety comes in two forms in this sport: variety within a class, and variety of classes. With some tweaks to the line-up you can accomplish both forms of variety and you can still hold firm to the marquee national classes that set this show apart from all the other winter events.
You may have also noticed the alternating colors of orange and black in the lineup. Well, there's good reason for that, the smoke tube at the farm show is fragile. It's needs to be completely overhauled, but I doubt that's in the budget so an alternating class schedule gives the tube plenty of time to cool and have repairs made.
So let's just jump in and look at the classes one by one: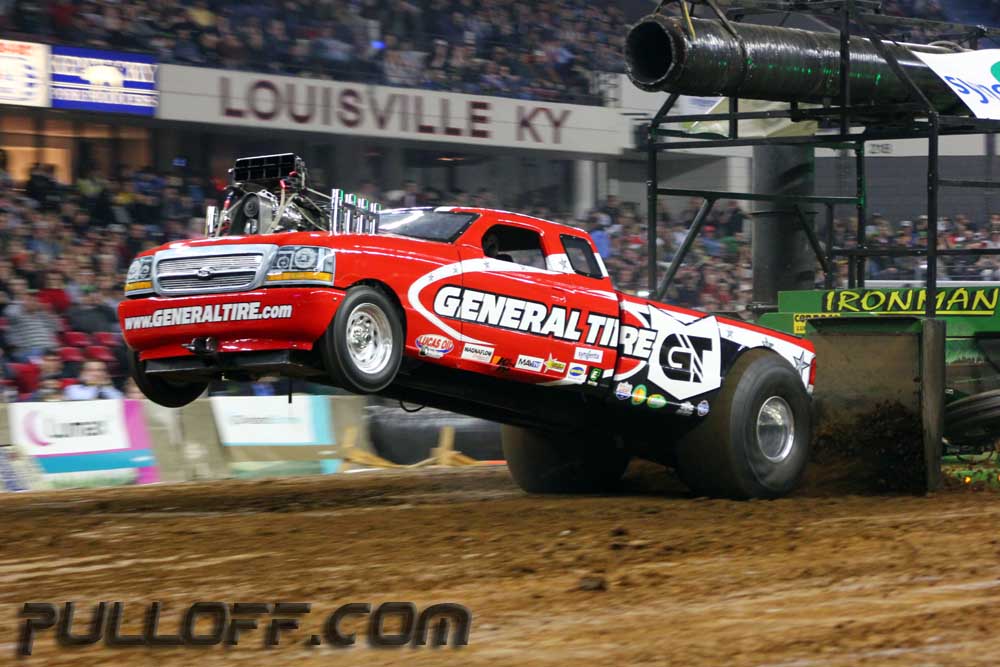 2wd –
These trucks put on a great show this year (well, every year!) Two Wheel Drives have two very competitive national circuits and they are present in every state organization everywhere. Keeping two sessions of this class is great for the show.
One other quick comment about the 2wd class… this class leads the sport in sponsorship and professionalism, and for good reason. Some of these full bodied trucks are absolutely beautiful moving billboards. For example, take a quick look at a truck like Stan Shelton's General Tire Truck and it just exudes professionalism. Trucks like Stan's are what this sport needs; a professional design by a professional graphic designer. It's graphics are beautifully laid out and it clear and bright. I know that some tractor fans turn their backs when the trucks run, but maybe they should start watching, because these guys are doing things that grab sponsors (and fans) eyes. A majority of the self-sponsored trucks seem to understand that bright colors and clearly written names really make these vehicles standout. Kudos to a majority of the guys in this class!
4wd –
These guys left the show two years ago, and many of their fans left with them. This class has two excellent national circuits and these guys can put on a great show. I've seen good versions of this class and I've seen bad versions of this class, and it was all due to sled setting. I've seen a class where every truck scraped and clawed for every inch and track speed was at a walking pace. I've also seen a PPL event that had the trucks just screaming down the track and all stopping within inches of each other, it was a great show! Fast ground speed highlights this class, a slow heavy sled kills it. This National class needs to get back in!
Light Mod –
This class hasn't even hit the track yet, and I'm already excited to see what combination is going to work! Can the Youngblood Unleashed run with 4 engines and make weight and keep the front down? Will a twin Hemi tractor show the class that with the right power and the right weight distribution you can make some serious waves in the class? Will a Bullwhip type tractor with a Long motor have the combination to compete? Will someone go the Longnecker route and run a Rolls? Can three Hemis or three Chevys get the weight right? This class is great in Europe and it will most likely be great here in the US. I heard a ton of buzz about it at the Farm Show this year and it should be a fun class to watch. The light weight might scare the committee, but after this summer we should know who has a good safe combination to make consistent passes. I can't wait to see this class run!
I know some people will get fired up with the idea of including such a new class, but I'm expecting 2012 to be an amazing inaugural season on the NTPA circuit. I'd expect to see this class grow quickly, and I'm hoping some state guys will put their tractors on a diet and test the waters when they get time in their schedules.
Mod –
this is going to be a class where it's hard to pick only twelve tractors! That means the lineup should be pretty different year to year and that would have me on the edge of my seat every single year. Was there anyone not on the edge of their seat watching Terry Jostock fly into the sand pile with three good motors and one hurt motor to almost force a pulloff with Joe Eder? With the inclusion of a Light Mod it might force some guys to pick where to apply, and that will make this class and the Light Mod class all that much more fun to watch.
That ends the noise portion of our show, but it doesn't end the sparkplugs!
Unlimited Super –
Is there really anyone out there that didn't enjoy the finals? That was an excellent class in my opinion; it was as exciting a finals as I've seen. Obviously bringing only a dozen tractors means that some of the top tractors won't make the show every year, but that's OK, that keeps the show fresh. There's not much else that needs to be said about this class, they just belong in Louisville.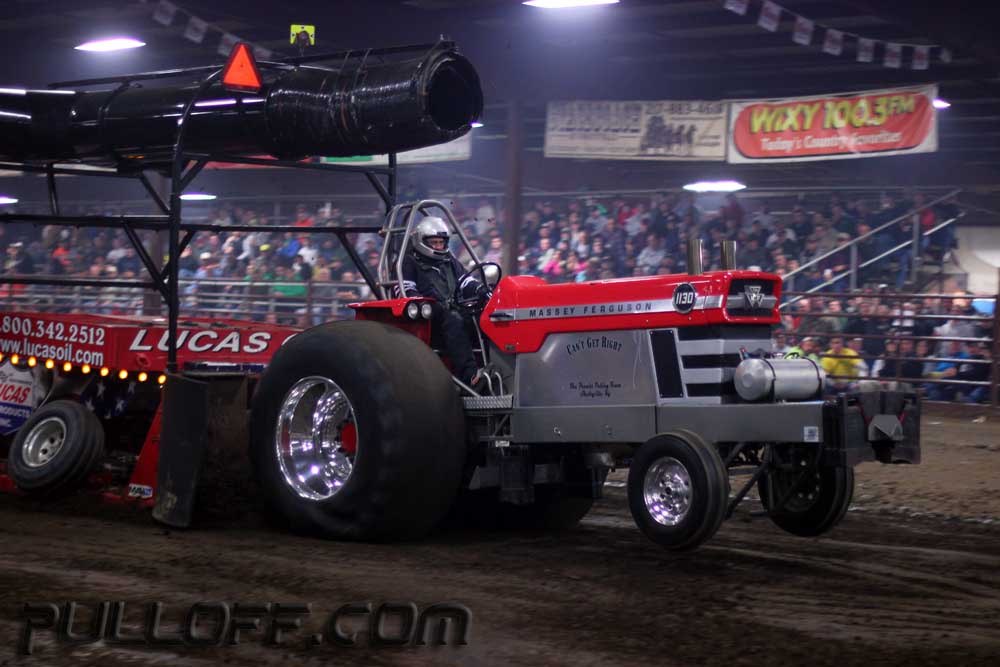 Light Limited Super –
Here's where the feedback page will get people fired up, this class will be the hardest sell for many who believe this class isn't "big" enough. First the good, this class is growing like wildfire. If you don't have a version of this class in your neighborhood you probably will sometime in the near future. KTPA, ORVTPA, and BOB put on some excellent local KY shows. KTPA and ORVTPA both had 30 different tractors hook for points last summer! Badger State, Iowa, Michigan, Missouri, NY, and Midsouth all are offering this class in some version or another and they all have some great running little tractors. The ORVTPA rules are excellent and I think they should be the rules in place for the farm show since it's the local version of the class. Here's why I think the class should be included:
A majority of the teams are local, meaning they will bring all their local fans to see them pull on the big stage. All their competitors will come to see how they would stack up. They'd bring their friends and families and they'd put lots of butts in seats.
They have more variety than any other class out there. You name it, this class has got it. Dibble's "M" would definitely be an invite the first year!
Size matters! This class brings different size tractors, they are the three bottom plow tractors that many small farmers grew up on. Every other tractor class is big hoods, this class is different!
They are tractor rear-ends and tractor transmissions and tractor blocks.
Now the bad, I'd only bring in alcohol tractors for the first year. I love the diesels and I love the variety they bring, but this is simply a logistics issue that relates to the smoke tube. The tube needs a rest for repairs and twelve little alcohol tractors would really be an interesting addition to the show. I think strong diesel numbers are integral for the future of the class outdoors, but logistic win out until the smoke tube is updated.
Here's a note to the competitors in the class: keep the sheet metal small. Don't make the class a 1066 type class. Don't make it a 7 or 8000 series Deere class. Those hoods are great for big/heavy classes, but not LLSS. The class rocks because it's different. Fans want to see 460's, 880's, 570's, 3010's, 180's, etc.… in this class because they can't see them in ANY other class. A mix of new hoods and old hoods is a big key as well, the small MX series tractors, the small Whites, the smaller Fords, 6000 series Deere and the other small frame Deere, smaller NH, Moline's, Massey, etc… all give this class character and keep it truly unique. If a fan wants to see big hoods they have dozens of other classes, keep the big hood for ALL those other classes. Stay small and stay unique.
One more harsh word for this class, the Light Super of years ago died in part because of appearance. There were some real rust buckets out there in that class and not everyone can pull off the Solid Junk theme. Paint and polish go a long way. I understand that LLSS tractors are much more budget friendly, but please, please, please, remember that this is a spectator sport and fans want to see pulling tractors not junkyard wars. Tractors like Under Pressure, Ain't Misbehavin, Family Driven, etc… are all beautiful little rigs. In the grand scheme of this sport paint is cheap. If you want to get into the big shows you need to make sure your tractor looks like it belongs there. I'm not saying you need billet pieces everywhere or polished aluminum everywhere, or thousands and thousands of dollars in paint, but maybe one shade of blue instead of three "close" shades goes along way! Most in this class already look professional, and yes, painted steel rims are perfectly professional if the paint is in good shape, so this is just a reminder to the select few.
I can easily think of a dozen tractors that would put on an excellent show. These unique little powerhouses could bring more variety to the show than all the other classes combined. There might even be a four cylinder or two in the mix!
Time to transition to some smoke… kinda… sorta…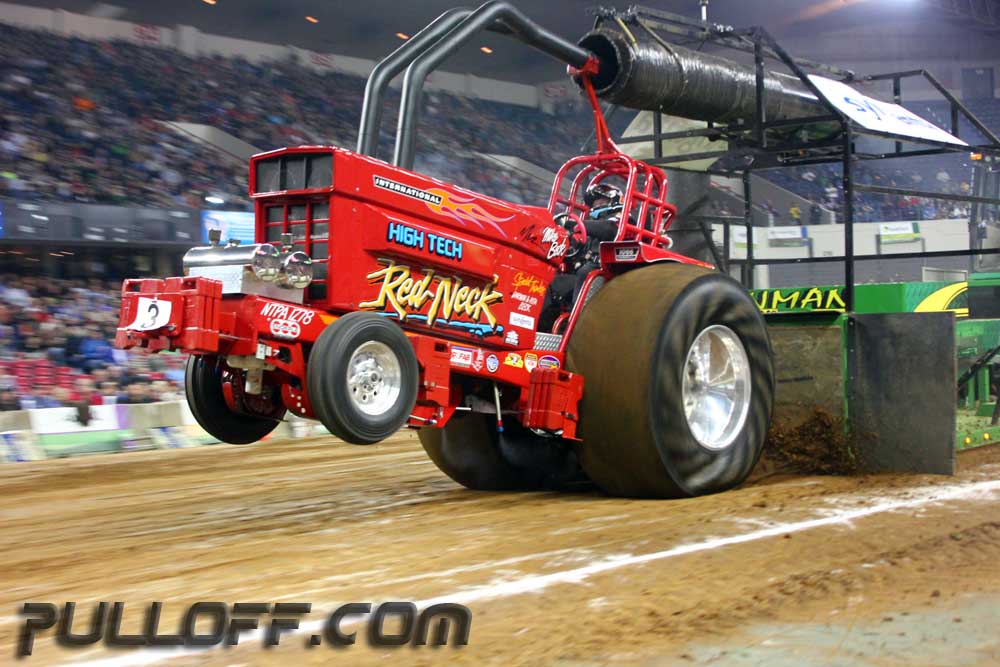 7 Super –
Where's' the LSS? Where's the DSS? What's this 7 Super, you ask? Well, it's a combination of DSS and LSS. It's 504 pushrod vs. the Redline Fever and Youngblood tractors of the DSS class.
There were two recent threads on this page that really had some interesting posts and solidified my opinion: the "Golden Age" thread and the "Old Video" thread. It's funny, but some of the most common reasons given on the "golden age of the sport" thread centered on the early war between the fuels. It seems that fans really liked to see the diesel and alcohol tractors run together when either fuel had a decent shot at winning. I've believed for years that the two fuels can play well together and they put on a much better show when they work together. This sport needs to look for ways to stop splitting classes and start reunifying. I'm extremely thankful that Esdon Lehn showed that a light diesel tractor can give the alcohol tractors a serious spanking on a 300' power track at even weight. It's confirmation that the fuel war can make a class better.
So this class would be a combination class with one caveat, I think the diesel should get 500 lbs. the first year and see how it works. Here's my justification for the additional weight indoors; I believe the alcohol tractors have a slight advantage on the short track. They are high revving and can get the sled up and running a little quicker. The diesel tractors can really lug, but the short track and sled setup in Louisville isn't really a lugging track.
There shouldn't be a problem with anyone making weight, and the event is non-sanctioned so the two-bar SFI cages won't be an issue for the alcohol tractors. If one fuel dominates the weight could be adjusted or eliminated the following year.
So my idea is six alcohol tractors at 7000 lbs. and six diesel tractors at 7500 lbs. per session for two sessions. One dozen of each fuel shooting it out over two nights, and one king of the hill fuel finals. The DSS is healthy and the LSS is growing, so this class would have good turnover from year to year. I know I'd be on the edge of my seat seeing who make's the finals and who takes the crown. Red vs. Green vs. Blue vs. Orange vs. White/Oliver vs. etc… Some great color potential for both fuels!
The added weight for the alcohol tractors would also put the committee a little more at ease knowing that there's an extra 500 lbs. to put on the front.
Pro Stock –
This class is another class that's guaranteed to excite. Two sessions of the 24 best Pro Stocks this country has to offer! This class is a show staple and if you look at the schedule it closes the show on both Friday night and Saturday afternoon. This class didn't have the best session in 2012, but it's carried the show in years past and it will carry the show for some time yet. By losing a session this class also get more turnover from year to year and that will keep things a little fresher. There's no doubt that this class is a Farm Show staple.
Limited Pro –
This class has a name that means something different to every area of the country so when I say Limited Pro I'm speaking of: 640 CID, 4.1 turbo, OEM head, P-Pump, and for tractor purists, it's OEM rear-end and transmission! This class is Super Farm on steroids! It's a very competitive and exciting class and they can carry the front the entire length of the track. The class has got some good momentum right now, it's growing and it's very popular in areas west of the Farm Show. Some SF guys bolt on the 4.1 every chance they get! Which means the class would bring in some former SF pullers and some new guys that have never been down the farm show track. They make great power and they are usually consistent performers and you can feel confident that all twelve tractors will make solid runs. Anyone could win, and there are a pair of black Cases that could make the Red and Green guys work for it. With only one session the committee would really have their work cut out for them in picking the best twelve any given year.
One last note: if you look at the Wednesday lineup, it lists three potential classes. Currently I think SF has the numbers and they deserve two sessions, but if this class or the Light Pro keeps gaining ground I'd make changes and let the momentum dictate the time slot. This class could be the first to squeeze the SF back to one session.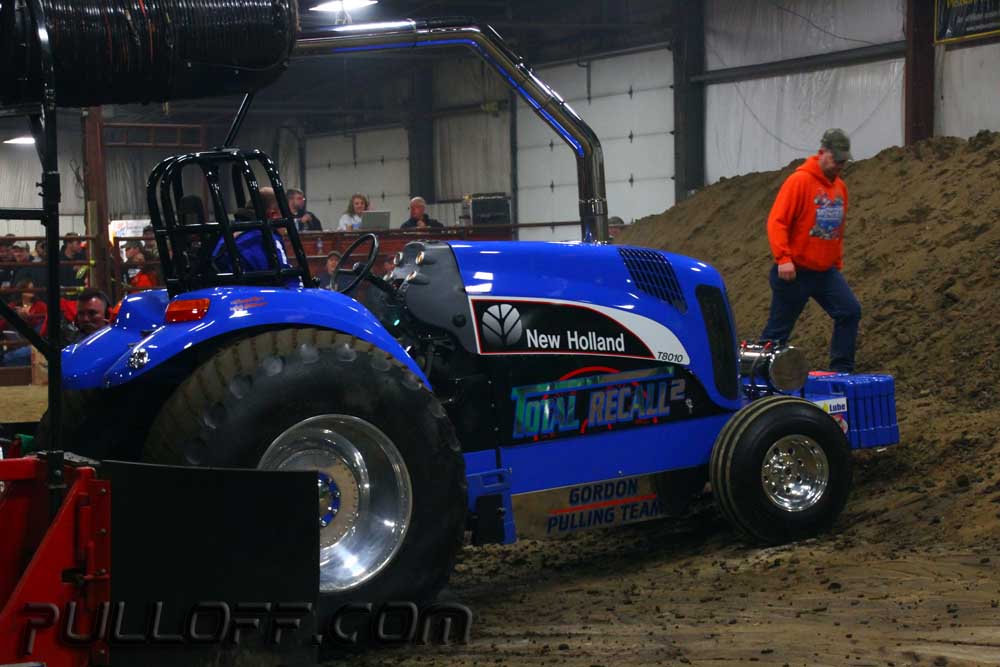 Light Pro –
Another new class, so for those who don't know the rules: 540 CID, Unlimited turbo, OEM head, and P-Pump maximum, and another class for tractor purists, it's OEM rear-end and transmission. This is another class with a ton of momentum. It was a very popular class on the NTPA Region 2 circuit last year and it's very similar to the East Coast Mod Turbo class (they also call the East Coast class Limited Pro, but that name is often confused with the 4.1 class so from now on I'll call it Mod Turbo). Which brings up a point, I'd invite at least four East Coast tractors (they have a smaller A-Pump limit on their circuits, but they will tell you that their "little" A-Pumps don't hold them back any, and results show that they can hang with the P-Pump tractors). The Forrester stables have at least three excellent Fords to add to the mix. Zach Howell could bring a beautiful NH Light Pro and there are plenty of other great tractors in the class. In fact this class is so hot right now that it's attracting pullers like Bud Gettinger, Roger Early, David Siefert, Palmers and some other big name former and current SS and PS pullers. Mix in the veteran PS and SS pullers with the class standouts like Biehl and Fleck (to name a few) and you've got a recipe for quite an exciting class. This class is a real rarity, a powerful single turbo diesel class with an abundance of color. It's an event promoters dream and it's exactly the type of class that can draw new fans into the farm show. Fans of Ford/NH may actually have a reason to buy a ticket to the farm show again! I honestly can't go to a pull without hearing of a new Light Pro being built. Much like the Limited Pro, they deserve one session now, and after that… time will tell who gets the second session first.
Super Farm –
Yes, Light Pro and Limited Pro have taken some numbers out of the SF class, but it's still one of the biggest classes in the country. The Farm Show has a good mix of PPL and NTPA rules and the class is consistently a nail biter. I'd probably have two session of this class, one Wednesday, and the other Friday, but if the Limited Pro or Light Pro outgrows this class I'd make that Wednesday night slot for whoever is the hottest class. It's hard to even think how much turnover there is with only 24 slots open, but it would definitely mean a new cast of competitors from year to year. That would keep this class fresh.
One side note about the floating Wednesday time slot:
Initially I wanted to have Minis on Saturday, and move the Light Pro to Wednesday, but I know the Committee would never make that move. It would require a second sled but personally I think they put on one of the best shows in this sport. They keep me on the edge of my seat for every single pass. I stand/sit in awe of the guys who can manage to wrestle those little dynamos down the track. Some guys can skate them down the center and make it look like a Sunday drive. Personally adding this class to the show would be my ideal lineup. Unfortunately the aspect that makes the Minis so exciting is also what makes them a longshot, they are wild! I'm sure sphincters tighten and insurance men get some acid reflex when they think about the Minis at the farm show. Unfortunately this class suffers from perception being different than reality, and yes they are wild, but the class has some of the best drivers in the sport and I think they can be a safe as any class.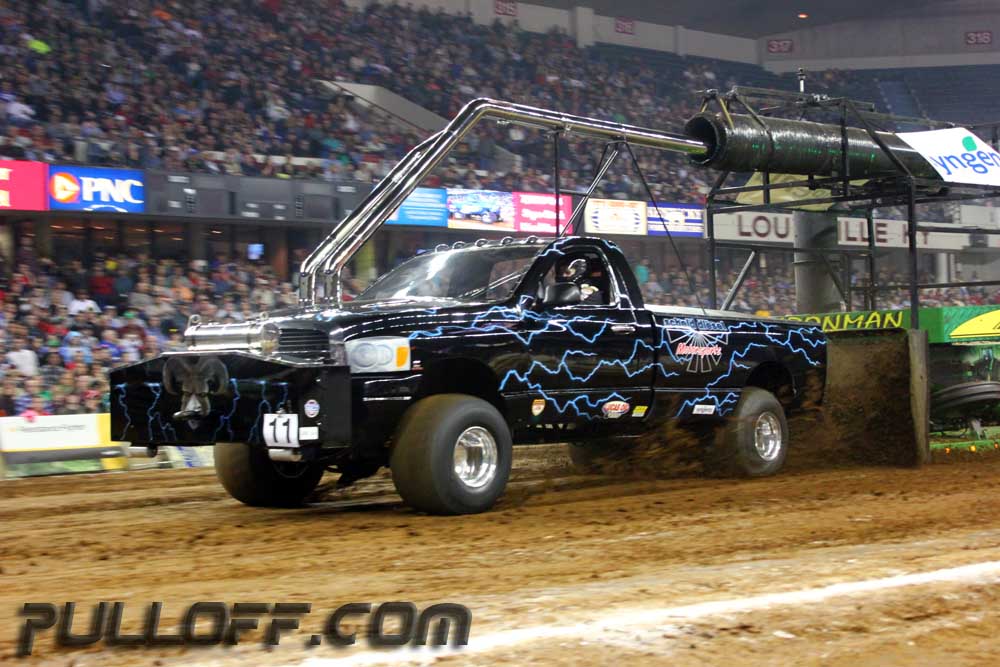 Diesel 4wd -
Last but not least. This is the newest class in the farm show, and it's still getting mixed reviews by many fans. Let's be honest, 2011 was an unmitigated disaster. The show was slow and it seemed like 90% of the class broke. It was by far the worst class of the event. This year, I didn't know what to expect. Thankfully I was pleasantly surprised with the change. For starters, almost everyone in the class ran, and ran well. The track crew did a good job getting trucks hooked and unhooked and the show ran much smoother. It still wasn't fast, but it was a huge improvement. The biggest disappointment for me was the sled setting, it's seemed like they never really got any ground speed. They clawed and spun and dragged, and they just never really got rolling. The class is still new indoors and I don't fault Vaughn or the committee, they are learning this class indoor on the fly in front of 17,000 fans. With a little more ground speed this class will have more potential to excite. This class is still in its infancy and it doesn't have the numbers yet so the smaller class size wouldn't hurt this class at this event.
One small side note: the black paint is gradually getting replaced in this class, but they need to look at the 2wd Truck class and add some brighter paint to the mix. In time, this class could be the great moving billboards that the 2wd class is.
Some additional notes:
For the Finals classes: the top 5 from their respective sessions transfer. Currently it's a little confusing for the casual fan to remember whether: six, four, or three pullers transfer to the finals for any given session. With four classes per night and a two session maximum it's easy to remember that it's always the top five competitors that transfer. Fans will always know how many make the Saturday night finals no matter what class is pulling.
I hope you enjoyed a few of my thoughts for an updated NFMS lineup. I'll have one final small article on some additional minor changes that the show could make, and a quick wrap up of the series.
Edited 3 time(s). Last edit at 02/17/2014 07:54AM by Jake Morgan.
---
Comments
---
Post A Comment
Website Statistics
---
Global:
Topics: 40,126, Posts: 229,028, Members: 3,350.
This forum:
Topics: 59, Posts: 59.
Our newest member Tracktec